Sexual Assault Awareness Month – Reflections from a Panel Discussion
April was Sexual Assault Awareness Month (SAAM) and each year numbers of community-based and government-funded organizations promote their campaign to end sexual violence.
I'm sure like myself many people get overwhelmed when they read or hear language like "gender-based violence" or "sexual violence" but we can break it down into ways that we can identify sexual violence in smaller moments — like the fact that I don't feel safe to walk alone at night down an empty street, or that I worry about how my niece will be treated in school by her male peers. When we do this it makes it easier to identify, to take action, and to "do something" to stop and even prevent sexual violence. Through a collective everyday approach we can make changes big and small for a world we can all be free to live in; like developing programs that foster respect, that build and model healthy relationships for students and adults alike so that everyone feels safe and valued. For this reason, I was happy to join a recent panel discussion to explore what sexual assault awareness month (SAAM) means and looks like for our young girls and women of color.
On April 16, 2021 I had the privilege to participate on a panel, National Girls & Women of Color Council Inc Presents: Sexual Assault Awareness Month (SAAM) Panel, representing my professional work in the movement and as a member of Chicas Latinas de Sacramento. While I welcomed the opportunity to discuss ideas surrounding the topic of sexual violence prevention, what I enjoyed much more was sharing (virtual) space with and listening to the youth that were on the panel. To listen to their ideas and perspectives on the ways that communities can support, protect and uplift girls and women and non-binary folks of color was a treat at the end of a very harsh week.
Among the many speakers, Emeline inspired me when she spoke about her experience of participating in a program in Oakland California called Banteay Srei a mentorship and leadership program where participants are mentored by the staff but also mentor the current youth participants. This made me think of how much I wish I could have enjoyed the same program in my youth, but it wasn't a feeling of resentment but of hope for what this and future generations can do based on the dreams and the wishes of generations before them. It made me reflect on what I have been doing with my time recently to support a movement toward equity and a world where our communities are safer and thriving.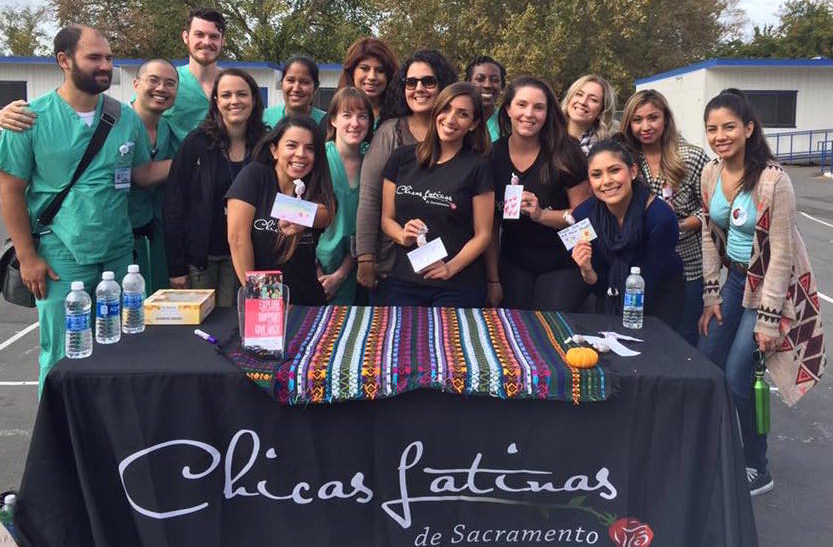 When I joined Chicas Latinas de Sacramento I only thought about doing volunteer work for the sake of doing it, a sort of soul cleansing, but what I've come to realize as I reflect on my participation on the SAAM panel is that in many ways I joined a group that enriches a community where I feel empowered as a result of our collective efforts. I've found a loving supportive community of my peers. When I join a paint night or a book club I see myself and learn more through the experiences of all of the board members, committee members, and event participants. Chicas Latinas de Sacramento may not tout itself as an organization that works to end gender-based violence, but it doesn't have to really. In the many ways, Chicas Latinas de Sacramento participates and contributes to the Sacramento community it, in turn, pushes growth toward a community where people are seen, valued, listened to, and empowered to take on small actions that grow to bigger change outcomes. Something like the Chicas Latinas de Sacramento shoe drive that provides a new pair of footwear for an entire school promotes not only learning but confidence.
I can imagine a little brown girl with black hair like myself, being happy on the playground because something as simple as having the right fit for a pair of shoes could make all the difference to enjoy the school day. That to me speaks volumes to the little ways we can all help our community move forward. These are the change-making ways that we can get closer to support, protect and uplift girls and women and non-binary folks of color.
---